Description
UT8000E SERIES
The UT8000E Series is a new generation of reliable, cost effective, full capabilities digital multi-meters. With measuring DCV, ACV, DCI, ACI,Resistance (2&4 Wire), Capacitance, Inductance, Diode Test, Frequency and Temperature.The Series is not only designed for simple and efficient bench top use,but also includes providing a variety of auxiliary functions, communication interfaces, sotiware options for data logging and remote programming to help meet the needs of test and measurement applications in process testing, teaching experiments and inspection occasions. 
The series includes four models, UT8802E/03E/04E/05E, providing customers with more choices, it can fit any DMM application with speed, accuracy, reliability, and efficiency well beyond its price.
5 ½ Display
199999 count, 4.3 inch TFT LCD display, 
Hold measurement function 
Mathematical operations and reading statistics
Mathematical operations mainly include 5 functions:
 statistics, limits, dB, relative operations and dBm. 
Choose different mathematical operation functions to meet the 
measurement requirements of different conditions. 
The math operation function is suitable for voltage, current, resistance, 
capacitance, frequency/period and temperature measurement. 
The dB and dBm operation are only suitable for voltage measurement.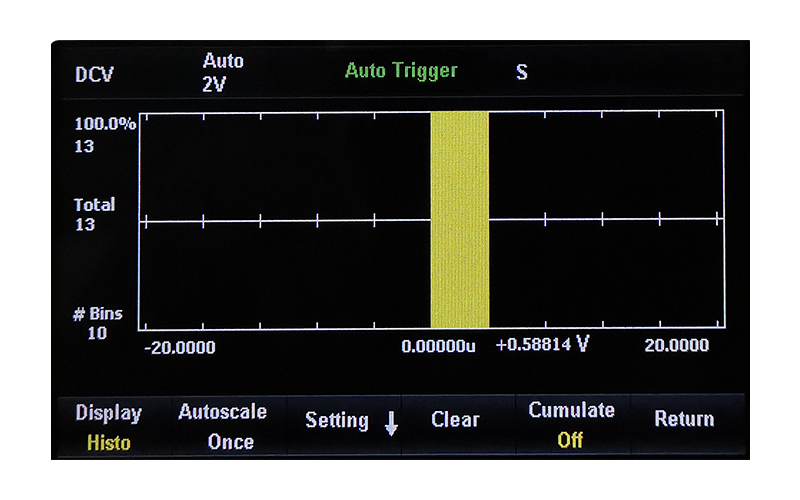 Display mode
Support users to view the measured data in four ways: 
"number", "bar graph", "trend graph" and "histogram". 
Dual display function
When measuring the voltage or current of an AC signal, 
you can also measure its frequency. At this time, the voltage or current
is displayed, and the frequency value is also displayed. 
Payment & Security
Your payment information is processed securely. We do not store credit card details nor have access to your credit card information.