Description
UT3560 SERIES The UT3560 Series Battery Testers contain 2 models: UT3562 and UT3563, which are used to detect the battery internal resistance, include battery module test, battery R&D measurement, high-voltage battery set test, and high-speed assembly line tests of lithium battery, lead-acid battery and button battery. 
4.3 inch LCD screen display
4.3 inch LCD screen display
Resistance test range: 0.0001mΩ~3.2000kΩ; 
Voltage test range: 0.00001V~400.000 VDC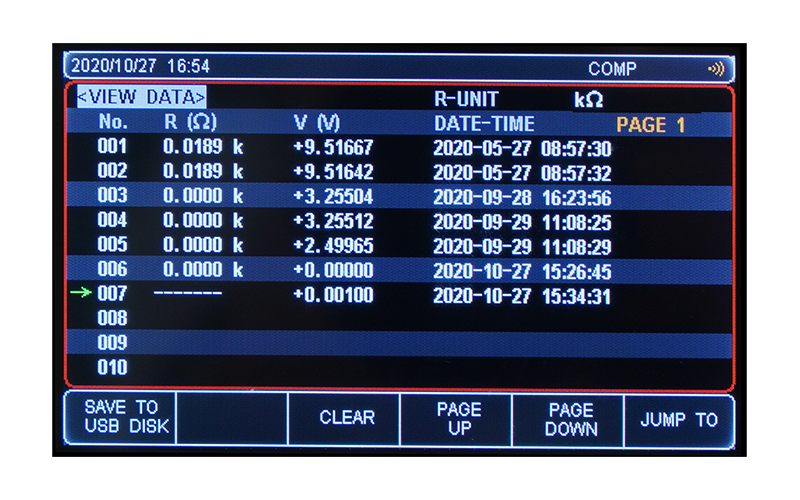 Optional Range mode and Data storage
Optional automatic range, manual range test
Manual range: 3mΩ, 30mΩ, 300mΩ, 3Ω, 30Ω, 300Ω, 3kΩ
Comparator setting alarm function
Special voltage and resistance upper and lower limit alarms, 
the alarms have sound and Hi/IN/Lo display respectively. 
Configure rich interfaces
Equipped with RS-232C, USB Device interface, the instrument is equipped
with general data acquisition software as standard, with its own database
function and Excel export function, which can be effectively used for remote
control and data acquisition and analysis.
Standard Handler (PLC) interface:
separate output resistance HIGH/IN/LOW signal and voltage HIGH/IN/LOW signal,
which can fully cope with the high-speed automatic sorting system to complete
the automatic assembly line test, and the enhanced IO signal can be directly driven 
Power relay and signal relay. 
Payment & Security
Your payment information is processed securely. We do not store credit card details nor have access to your credit card information.